(1978, Lisbon, Portugal)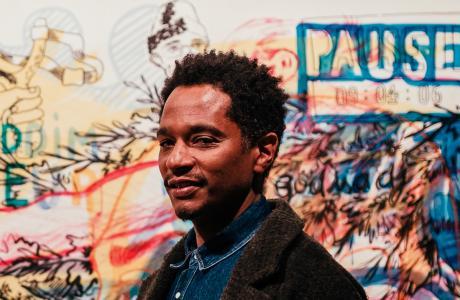 His mother is Cape Verdean and his father Angolan. He lives and works in Portugal and Angola.
He studied Fine Arts at the Upper School of Arts and Design in Caldas da Rainha and completed a master's degree in Fine Arts at the School of Visual Arts at Columbia University.
He has lived in Berlin, New York, and Luanda, and identifies himself as Portuguese, Cape Verdean, and Angolan. Cubism, pop art and street art have all influenced his drawings, installations, paintings, and portraits. In solo exhibitions such as Utopia Luanda Experience (2016), Padrão Crioulo (2019), and Oficina Tropical (2020), he instigates a dialogue  between colonial and postcolonial space.  He questions the idea of Africanness in com-positions that raise reflections on struggles for freedom, discrimination and trauma.