(1992, Metz, France)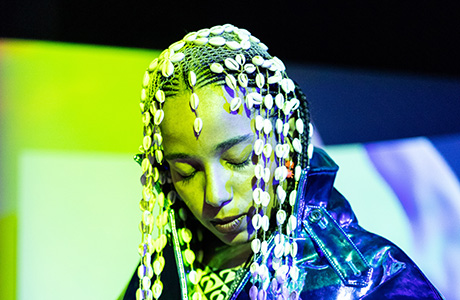 © Paul Fogiel
This multidisciplinary artist combines sculpture, photomontage, performance, film, and writing. Using the internet and natural science books as a source of raw material for her work, Ntjam's preferred technique is assemblage – of images, words, sounds, and history(s) – which she uses as a modus operandi for a practice that aims at deconstructing the grand narratives behind hegemonic discourses on the notions of origin, identity, and race.
Her work often interweaves multiple narratives inspired by investigations of historical events, scientific functions as well as philosophical concepts, with references to African mythology, ancestral rituals, religious symbolism, or science fiction narratives.
Ntjam is a member of the Black(s) to the future collective.
Other sources:
https://blackstothefuture.com/
https://www.youtube.com/watch?v=XBF6eOV0C9k& ab_channel=PalaisdeTokyo