(Curator and artist)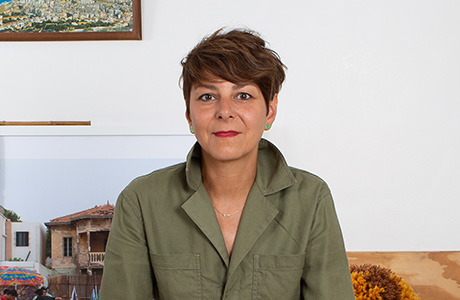 ©margotmontigny-4765
Katia Kameli graduated from the École Nationale des Beaux-Arts de Bourges and completed the post-graduate course "Le Collège-Invisible" at the École supérieure d'ar t& de design de Marseille.
Her work has achieved visibility and recognition on the international art and film scene and has been shown in solo exhibitions: À l'ombre de l'étoile et du croissant, Centre régional de la photographie Hauts-de-France, Douchy-les-Mines (2018); Stream of Stories, chapter 5, Biennale de Rennes (2016); What Language Do You Speak Stranger?, The Mosaic Rooms, London (2016); Taymour Grahne Gallery, New York, USA (2014).
She has also taken part in numerous group exhibitions: Dakar Biennale, Senegal (2018); Rennes Biennale, France (2018); Platforma Festival, Newcastle, England (2017); Global Players, Biennale für aktuelle fotografie Kunstverein Ludwigshafen, Mannheim, Germany (2017); Cher(e)s Ami(e)s, Centre Pompidou, Paris, France (2016); Made in Algeria, Mucem, Marseille, France (2016); Entry Prohibited to Foreigners, Havre Magasinet, Boden, Sweden (2015); Higher Atlas, Marrakech Biennale, Morocco (2012).
Her film work has also been screened in theatres and various festivals: MK2 Beaubourg, Cinémathèque Française, Utopia Bordeaux, Cinemed, Gulbenkian, IFFR Rotterdam, Holland. Her artworks are part of the following collections: Musée National d'Art Moderne/Centre Georges Pompidou, Centre National des Arts Plastiques (CNAP), FRAC Hauts-de-France, FRAC Poitou-Charentes and FRAC PACA.
Other sources:
https://coeuretart.com/coeur-a-coeur-katia-kameli-kunsthalle-munster/
https://www.youtube.com/watch?v=2hfOi47UIYw
https://www.youtube.com/watch?v=q97bKsu9eyA