(1971, Antananarivo, Madagascar)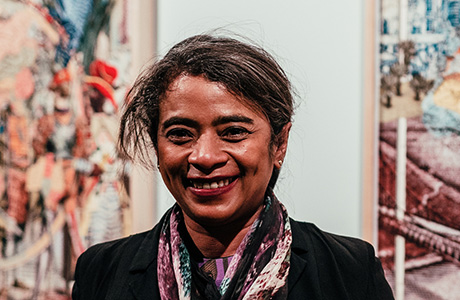 She lives and works in Paris, France.
She approached the language of photography through architecture, after a research project on the funerary culture in Madagascar, which motivated two of her main photographic series, Outre-Monde and The Ancestors' Land, a few years later. In these pieces, the artist continues to explore the theme of death through an almost ethnographic lens where photography and architecture merge.
Later, after winning the 2004 HSBC Prize for Photography, Malala Andrialavidrazana embarked on a more ambitious project, Echoes (from the Indian Ocean), which was originally titled Ny any aminay (a Malagasy expression meaning both "intimacy" and "welcoming place" or "home"). In this piece, the artist invites us to think about the multiple realities of identity in the Indian Ocean – as a geographical territory of encounters –through four significant places: Antananarivo, Reunion, Mumbai, and Durban.
Other sources: 
www.andrialavidrazana.com