(1966, São Domingos, Guinea-Bissau)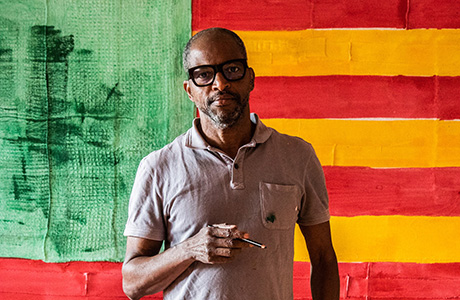 ©Thierry Caron
In 1989, he settled in Paris, where he now lives and works.
He studied photography at the School of Photography (AFP) and conclude his studies at Ecole Nationale des Métiers d´Image of Gobelins, in Paris.
Using an interdisciplinary approach, Barreto's work combines collage, drawing, photography, painting, the reuse of found objects and video. In his series, Estados Desunidos de África
(2017) and when he produced Prétu Funguli and Traços Diários (2019), he examines the utopia of a united Africa, the oppression, fratricide, and suffering that plague the African continent.
Other sources:
https://theartmomentum.com/nu-barreto-the-fascination-of-red/
https://www.nathalieobadia.com/fr/artists/33-nu-barreto/works/