PAULIANA VALENTE PIMENTEL
(1975, Portugal)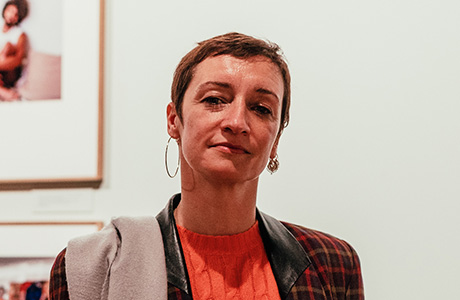 Pauliana lives and works in different countries and her interest in photography stems from her travels.
She attended the workshop of photographer David Alan Harvey, who encouraged her to publish her images. She holds a Bachelor's and a Master's degree in Geology from the University of Lisbon. Her work, which also encompasses video, explores social contradictions by drawing on the imaginaries of minority social groups. In Quel Pedra (2016), nominated for the Novo Banco award, O Narcisismo das Pequenas Diferenças (2018) or Ask the Kids (2019), Afro Descendentes (2020) she questions notions such as gender and feminism.
In 2015, she was elected best photographer by the Portuguese Society of Authors. She is a member of the N'WE collective, which advocates for a critical look at Portuguese-speaking countries.
Other sources: 
http://www. paulianavalentepimentel.com/https://www.youtube.com/watch?v=SsYqZTcuuSw https://www.artecapital.net/snapshot-23-pauliana- valente-pimentel