(1978, Lubumbashi, Democratic Republic of the Congo)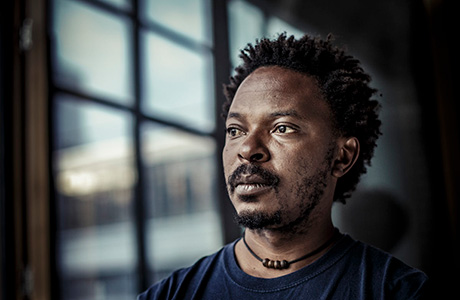 He was initiated into art through comics and later developed an interest for photography and video. He holds a Bachelor's degree in Humanities from the University of Lubumbashi, and a specialisation in video and photography from Strasbourg's Haute école des arts du Rhin.
He worked at the Institut français de Lubumbashi, where his research on the colonial heritage in the city's architecture sparked his personal and artistic interest.
He lives and works between Lubumbashi and Brussels, and produces photographs, installations and videos. In Mémoire (2006), Allers et retours (2009) or The Tower. A Concrete Utopia (2016), he revisits the places of memory of the colonial past, the construction of identity, and the historical and cultural tensions of his country.
Other sources:
https://www.youtube.com/watch?v=TQY4-2lRaW8
https://www.academia.edu/40819911/Vestiges_of_Oblivion_Sammy_Balojis_Works_on_Skulls_in_European_Museum_Collections
https://technosphere-magazine.hkw.de/p/The-Tower-A-Concrete-Utopia-uCLqGH855dT3A6AZVuq87h